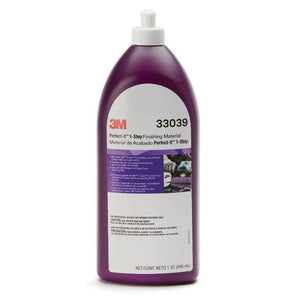 3M Perfect-It 1-Step Finishing Material 33039 | MES Detailing Supplies
3M
Regular price $89.89 Sale
3M™ Perfect-It™ 1-Step Finishing Material balanced cut essentially compounds and polishes in one step*, eliminating the need for compounding!  It delivers a longer working time yet still reduces sling for easier cleanup.  Formulated for a broad range of user conditions without sticking or leaving residual film.
Part of a Complete System that Eliminates Compounding in Paint Finishing
When used as part of the 3M™ Perfect-It™ 1-Step System, our 3M™ Perfect-it™ Finishing Material makes possible something that collision repair and detailing professionals have always desired: the elimination of compounding from the paint finishing process. Now, you can complete paint finishing jobs faster, increase throughput in collision repair shop or detail department without sacrificing a showroom-quality finish on most vehicles. Fast-cutting, 3M™ Perfect-It™ 1-Step Finishing Material applied immediately after scratch refinement with 3M™ Trizact™ 3000 and 3M™ Trizact™ 8000 Abrasives, and in effect serves as compound and polish in one. It is formulated for longer work times, even in extreme conditions – especially important in places where heat and humidity are common inside or outside of the shop. It won't become sticky during use or leave a powder or film residue that can cause rework. Yet it holds on the pad, reducing the mess, waste and cleanup time associated with sling.
*eliminating the time and expense of compounding when used as part of the 3M™ Perfect-It™ 1-Step Paint Finishing System.