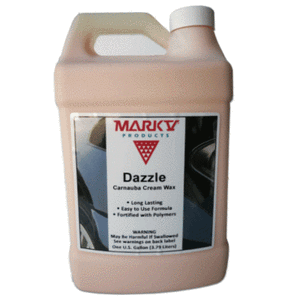 Mark V Dazzle Carnauba Cream Wax Gallon
Mark V Products
Regular price $0.00 $49.99 Sale
Dazzle Carnauba Cream Wax
A professional grade product
that is easy to use and achieves great results.
Can be used by hand or machine
to create a "dazzling" showroom, long-lasting finish.  Works great on removing light swirl marks with a buffer and pad.  Use on new or slightly rusted vehicles to brighten and seal in one step
Fortified with polymers
to resist detergents and road salt. It even works in high humidity areas when other products smear. Non-smearing all-weather formula.
Lasts for 3 - 4 months
Seal and protect your paint job, with this final step after polishing.
Strength 3 Longevity 6