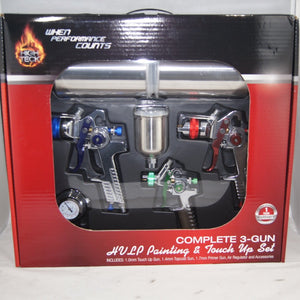 Hi Teck 3 Gun Set 1.0, 1.4, 1.7 T530
Hi Teck
Regular price $159.62 Sale
The High Teck™ Complete 3-Gun HVLP Paint & Touch Up Set provides easy-to-use, long-lasting tools for a variety of automotive, industrial, and marine coating applications. Anodized aluminum bodies and stainless steel hardware offer corrosion resistance and allow for the use of waterborne coatings. Simple, yet comprehensive instructions make the task of achieving professional results easy with fully adjustable, precision-machined controls for fluid, air and fan pattern.
One year OTC warranty
Includes three Performance Series spray guns with aluminum cups: 1.0mm touch up, 1.4mm topcoat, and 1.7mm primer.
Also includes locking pressure regulator, fluid filter, gun cleaning kit and service tools.
Avg. air consumption: 7-9 CFM
Air inlet threads: 1/4"