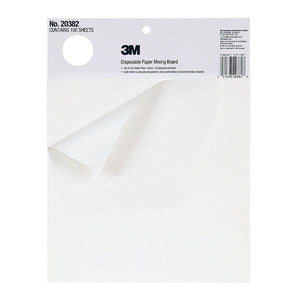 3M Disposable Paper Mixing Board 20382
3M
Regular price $0.00 $34.22 Sale
Details
Clean, non-porous surface won't contaminate body filler
Non-soak paper means no transfer to floors or benches
Sized for multiple mixes on one sheet
Cost-effective – 100 sheets per board for high-volume shops
Our 3M™ Disposable Paper Mixing Board is a clean, cost effective solution for auto body professionals who regularly mix filler. Unlike cardboard, these 10 inch x 13 inch paper sheets are non porous and won't react with solvents common in many body fillers. This means no contamination of the filler. When mixing is done, simply tear the sheet off for a fresh mixing surface to save clean up time.
A new mixing surface each time you prepare filler
A Fail-Safe Filler Prep Surface
For auto body shops who use cardboard or other porous surfaces for
mixing filler
, our 3M™ Disposable Paper Mixing Board provides a cleaner, more cost-effective option. Each board contains 100 tear-off sheets of clean paper — a new mixing surface each time you prepare filler. These sheets are completely free of impurities commonly found in materials like cardboard — the waxes, fibers and other contaminants that can break down when exposed to solvents, making the filler less stable and more likely to fail.
Clean, Easy...
The 3M™ Disposable Paper Mixing Board means a cleaner shop, as each sheet simply tears off for easy disposal — no need to clean the mixing board, and no more paper or cardboard scraps lying around after filler preparation. As each sheet is removed, it exposes a fresh, clean sheet ready for further mixing. If used mixing sheets are left out, the filler mix hardens in place and will not soak through to floors, benches or equipment.
And Cost-Effective
These 10-inch x 13-inch sheets are large enough for several small mixes on one sheet, helping you get the most out of each 100-sheet board. All of this adds up to more efficient, professional auto body business, from the filler mix to the final results.