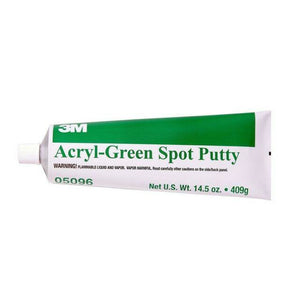 3M Acryl-Green Spot Putty 05096
3M
Regular price $35.44 Sale
3M Acryl Putty restores smooth, flawless surfaces by filing small pinholes, scratches, stone chips and other minor blemishes in automotive and marine finishes. The acrylic putty offers easy sanding, smooth spreading and low shrinkage.

Directions for Use:
1. Do not apply when ambient temperatures are below 55ºF or above 110ºF. Use in a well ventilated area away from sparks or open flame. (Do not apply material below the water line unless top coating.)

2. For best results apply only over clean primed surfaces. (Use compressed air to remove any dust contamination).

3. Apply using a plastic or metal spreader pressing the putty firmly into the imperfections; keep the application thickness to 1/16" or less. Apply in thin coats instead of one thick application.

4. Allow to dry prior to sanding. Sand (wet or dry) using 3M abrasives in the following sequence: P180, P220, P320. Note: As with any putty, longer drying times will occur with high humidity, thick applications and low temperatures.

5. Re-clean surface prior to priming or top coating. (Follow paint manufacturer's recommendation for priming and top coating).